SS316 Flood Spray Nozzle
Number :

146

Brand :

Material :

SS303, SS316

Spray angle :

140 degree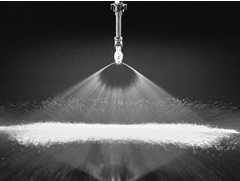 Send a message to us!
SS316 Flood Spray Nozzle
Flood Spray Nozzles produce a wide, flat fan jet pattern with uniform distribution and medium impact spray droplets.
They feature a precision-machined deflector surface which provides dependable, accurate control of deflection and spray angle.
The one-piece design resists clogging due to a large, unobstructed flow passage and round orifice.
Flood Spray Nozzles can also be suited to spray air and steam.
Flood Spray Nozzles are also available in the interchangeable tip form, and can be assembled in Uni-jet nozzle.

Design Features:
* Nozzle Materials: 303, 316 stainless steel and brass.
* Nozzle Structure: one-piece construction no internal parts.
* Spray Patterns: Flat fan spray.
* Spray angles: from 40 to 110 degree.
* Pressure Range: 0.2 to 10 bar (0.44 to 60 L/min).
* Inlet connection Type: 1/8", 3/8", 1/4", 3/4", 1/2" female and male thread connection.
* Also referred to as: Flood Nozzle, Deflection Nozzle, Wide-angle spray nozzle.
Printable version
Customers who viewed this item also viewed:
You may also like these:
Suggested Tags from similar products:
|-
flood Spray Nozzle
-| |-
deflector Flat Spray Nozzle
-| |-
Flooding Spray Nozzle
-| |-
whirl Jet Nozzle
-| |-
L-LE Deflected Flat Spray Nozzle
-| |-
RL Deflector Nozzle
-|