Boomless Flat Spray Nozzle
Number :

34

Brand :

Material :

SS303

Thread :

1/8, 1/4, 3/8 up to 1 inch

Spray angle :

110, 120, 140, 150 degree

Min. Orifice :

0.75mm

Min. Flow rate :

0.42L/min at 1.5 bar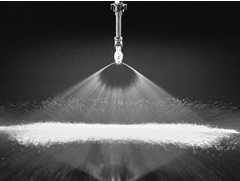 Send a message to us!
Boomless Flat Spray Nozzle
The W series Deflected Flat Fan Nozzle produces a wide flat fan-shaped spray with low impact. The spray is deflected 75°away from the centerline of the nozzle as shown on the drawing.
Construction:
The models listed are machined from bar stock, and are one piece construction. Standard materials are brass, 303 stainless steel and 316 stainless steel. Some models are also molded by PP/polypropylene, PVC, PVDF. All models are available in either BSPT or NPT threads. For molded plastic models, please inquire us first.
Printable version
Customers who viewed this item also viewed:
You may also like these:
Suggested Tags from similar products:
|-
FF Wide Angle Nozzle
-| |-
IS Fire Protection Nozzle
-| |-
Flooding Flat Fan Nozzle
-| |-
Bomless Nozzle
-|